Warning: contains spoilers from the first book.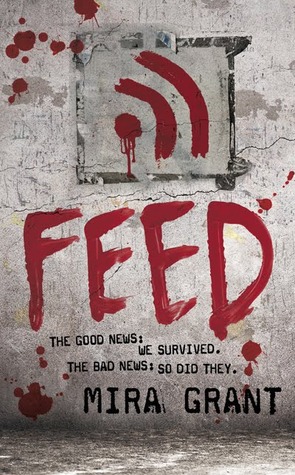 Feed follows news bloggers Georgia Mason and Shaun Mason as they followed the presidential campaign of Senator Peter Ryman through a world where zombies roamed the earth. Goodreads says:
The year was 2014. We had cured cancer. We had beaten the common cold. But in doing so we created something new, something terrible that no one could stop.

The infection spread, virus blocks taking over bodies and minds with one, unstoppable command: FEED. Now, twenty years after the Rising, bloggers Georgia and Shaun Mason are on the trail of the biggest story of their lives – the dark conspiracy behind the infected.

The truth will get out, even if it kills them.
Do you remember the last time you played with dolls or action figures? I was around eight or nine when I did. My mom gave me this pretty doll. She had alabaster skin, rosy cheeks, she had white, curly, short hair and she was wearing this baby blue nightgown with a petticoat. She looked so elegant and expensive. She was the prettiest doll I've ever gotten. I took her to bed with me the first night I got her and slept with her in my arms. I woke up in the middle of the night and she was missing. I thought I'd let go of her when I fell asleep so I turned to my side to look for her and there she was, standing on my bed facing me. That was the loudest I've screamed in my entire life. There's nothing paranormal about it though. My uncle, who was staying at our house that time, propped the doll on my bed to deliberately scare me but after that, all the dolls had to go.
This memory was buried in the recesses of my mind until I read Doll Bones. A story of three twelve year old kids, their last game together, and a china doll.